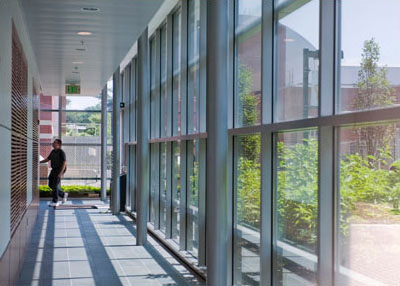 There are various offerings on campus that play important roles in helping transfer students transition and succeed at UMBC. Below are links to campus partners that work with the office of Undergraduate Research to ensure student success.
Admissions
UMBC is located on 500 acres, 15 minutes from Baltimore's Inner Harbor and 30 minutes from Washington, D.C. BWI Airport is five minutes away, as are AMTRAK and light rail stations.

---

ARTSYS
ARTSYS is the University System of Maryland Articulation System that facilitates the transfer of Maryland community college students to baccalaureate programs in Maryland 4-year public institutions.

---

Career Services
Career Services Center leads the facilitation of career counseling and networking opportunities to contribute to student success and regional workforce development.

---

Financial Aid & Scholarships
The Office of Financial Aid and Scholarships offers a variety of both need-based and merit-based awards to assist students with their educational expenses. Our financial aid counselors are available on an appointment basis to meet with students to explore the variety of options that best meet the student's needs.

---

Learning Resources Center
The LRC provides academic support programs to UMBC undergraduates so that students who seek assistance have the opportunity to reach their academic goals and become independent, lifelong learners.

---

Off-campus Student Services
We are committed to identifying and addressing concerns of off-campus,
transfer and evening school students through advocacy, programs
and services.

---

Office of Student Life
OSL works with students, student organizations and other campus partners to create a welcoming campus environment with intentional, inspiring opportunities for students to learn and grow.

---

Registrar Transfer Credit
For incoming students to UMBC, transfer credits will be evaluated in time for their Orientation session; for current students, the process can take four to six weeks from the time we received your transcripts. All transfer credit can be viewed on the Transfer Credit Report (TCR), which is located on myUMBC under "Advising & Student Support."

---

Shriver Center
The Shriver Center connects students to internships, co-ops, research, and service-learning opportunities enriching their education with meaningful work experience and cultivating their social responsibility.

---

Student Affairs
The Division of Student Affairs facilitates learning and prepares students for success in our multi-cultural and increasingly global society and work force.

---

Student Support Services
Student Support Services (SSS) is designed for students who are low-income, first generation college students, and students with disabilities from all racial and ethnic backgrounds who have a need for academic and other support services in order to successfully complete their college education.

---

Study Abroad
The Study Abroad Office is the university's one-stop academic center that helps UMBC students with planning their life-changing international experience.

---

Veterans
UMBC welcomes all veterans, active duty military and dependents. We are committed to providing the best possible educational experience and service to assist you in achieving your academic and personal goals.

---

Womens Center
The Women's Center exists to assist all women in achieving their full potential in education, career and personal life through academic and intellectual growth, professional development and personal empowerment.
1/31/2022