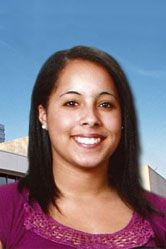 Tabitha Haverkamp
What is your major?
My major is Information Systems with a certificate in Network Administration.
How long have you been at UMBC?
This is my fourth year at UMBC. I am graduating in May 2014.
How/why did you become a TRS peer instructor?
I heard about the TRS peer mentor opportunity through a faculty member in the Information Systems department. I have previously been a peer mentor to new UMBC students and loved the experience. After hearing about the TRS, I met with the instructor and we decided that my interests and experiences made me a good fit for the peer mentor opportunity.
What other activities are you involved with on-campus?
Throughout my years at UMBC, I have been heavily involved in the Information Systems Council of Majors (ISCOM) and the Center for Women in Technology (CWIT). Both of these organizations focus on connecting students in technical majors and providing students with opportunities and information to succeed. In addition to these organizations, I work on campus within the Division of Information Technology (DoIT) as a Network Technician. Through this position, I get to see "behind the scenes" of UMBC and use my technical expertise to make a difference on daily operations at UMBC.
What has been the most meaningful/exciting part of being a TRS peer?
Being a TRS peer has been a great experience so far! It has been a pleasure getting to know all of the students in the class and expose them to UMBC culture and resources. While the instructor and I share knowledge and insight with the students, I have found myself learning so much from the class through their questions and stories. Having students tell me that the TRS has made a positive impact on their transition to UMBC makes me feel like I am making a difference in their lives – and this impact will spread to the remainder of UMBC as these students become more involved in the UMBC community.
What advice would you give students new to UMBC?
Get involved in student organizations! There are more than 200 student organizations on campus who are dedicated to creating a safe environment and inspiring members to learn and grow. Whether academic, athletic, or cultural, each organization is an important part of life and experiences you will have at UMBC.
What are your career goals?
After graduation, I plan to begin my career working full-time in the industry or government in the IT field. While beginning my career, I plan to also further my education and attend graduate school. I would love to find an organization where I can continue to develop as a professional and be involved in outreach such as mentoring or employee resource groups.