To the Academic Engagement and Transition Programs
Academic Engagement and Transition Programs (AETP) works closely with academic departments and other campus units to provide an honors experience for every UMBC undergraduate. These experiences are designed to engage all students in the intellectual life of the university and promote academic excellence.
UMBC seeks its unique excellence in higher education through an inclusive culture that connects innovative teaching and learning, research across disciplines, and civic engagement. We will advance knowledge, economic prosperity, and social justice by welcoming and inspiring inquisitive minds from all backgrounds".
~ (UMBC Vision Statement)
On this site you will find links to the specific AETP opportunities that embody the honors university experience, enabling them to successfully reach their identified goals.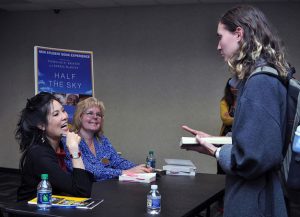 In keeping with the purposes outlined above, AETP sponsors initiatives and connects students with resources that help prepare them to deal with complexity, diversity, academic challenges, and change. Students seeking support with specific areas of study or with particular academic skills, for example, may enroll in an Introduction to an Honors University Seminar (IHU) or a Transfer Seminar (TRS201). Those seeking immediate engagement and active learning experiences both in and outside the classroom might enroll in a First-Year Seminar, choose residence in the Discovery Scholars Living Learning Community, attend our Summer Bridge program or enjoy experiences that connect with the New Student Book.
Thus, AETP strives to help all undergraduate students to identify purposeful pathways for learning and engagement over time. We support UMBC's vision by advancing the values, practices, and principles that will prepare all of our undergraduates for success in the twenty-first century. We hope students will take advantage of the opportunities we offer. As faculty and staff, we invite you to partner with us on this exciting journey. As visitors, we encourage you to browse the links to AETP offerings to learn more about who we are and what we do.
Again, welcome to our site and to learning more about Academic Engagement and Transition Programs offerings'.